We desire for all places of worship to be informed about autism.
Our founder, Tonya Nash, is the mother of two autistic sons. She and her husband, Jamie were both very active in church for many years. However, they soon learned after their sons were born that church can present a variety of issues for autistic persons. The unpredictable nature of church, crowds, lights and sounds all caused anxiety and meltdowns for their sons. Both boys had a fear of the sanctuary and attending children's church was difficult for them. Those working in children's church often didn't know how to effectively work with the boys, so they would sometimes call for Tonya and Jamie during the service for help. Faithfully attending church became difficult.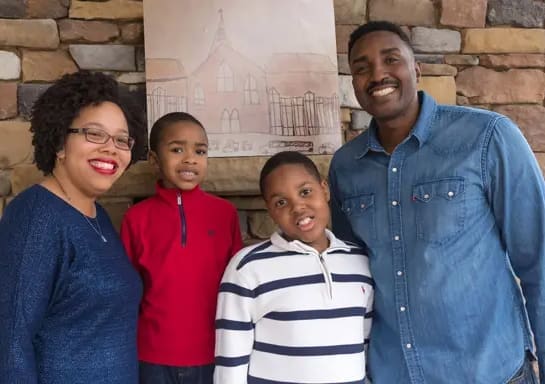 As a military family, the Nashes moved every few years and saw a recurring theme: Many churches, large and small, were not prepared to serve persons with autism and their families. In 2013, a church that they were attending, Bethesda Church of God, saw their family's struggle and started a special needs ministry for their oldest son. Bethesda's act of kindness led Tonya to wonder why special needs ministry isn't more readily available in most places of worship?
Tonya wrote a blog series about her family's experiences, which garnered a lot of positive feedback and support. A passion soon developed in Tonya to not only talk about the need for special needs ministry, but to actually do something about it. In January 2016, God gave Tonya the idea for the Autism Faith Network while sitting in the parking lot of an office supply store. She wrote it all down and pressed forward to start what was at first called, the Autism Awareness Month Faith Based Initiative. Our first logo was a church drawn by our founder's oldest son. He is the reason that this entire network exists!
Tonya recruited churches to participate in the initiative, encouraging them to do at least one activity to promote autism awareness, acceptance and inclusion in the month of April. Participating churches were asked to take a picture of the activity in progress and keep track of how many people participated. Our inaugural year in 2016 was a great success! The following years also delivered rewarding results, with greater reach than the years prior!
In 2020, the Autism Faith Network became an official nonprofit organization. Our reach has expanded to not only include places of worship, but also local communities. In 2021, the Manna from Heaven and Cheerful Giving Initiatives were launched. In 2022, a new logo was unveiled. We are excited about all of the wonderful things to come for the network!
Is your church autism friendly? If not, we can help!
Join our mission. Volunteer, Donate, Advocate. Get Started Today.